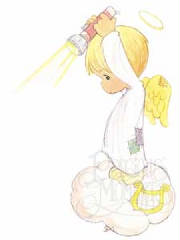 Kari's parents are Jeff and Becky Hobby of Sylvester, GA. Kari was 18 months old when she drowned in her family's backyard swimming pool on November 7, 2008. She was to compete in the Worth Co. Forestry Pageant the next day. Kari will forever be in our hearts and is now our Angel in Heaven.
Kari loved to laugh, play with her brothers and always had a smile on her face. She could make YOU smile even on the worst of days. Her personality brighten any room she entered and her hair made the sweetest curls around her ears.
A scholarship has been established in honor of her memory. Beginning with the 2009 Worth County Forestry Pageant, the Kari Ann Hobby Scholarship Award will be given to the contestant with the highest total score in Optionals. Contestants must enter all optionals to qualify for this award.
For more information concerning this scholarship, please contact Kelly Eadie at (229) 344-4029 or
kme1930@live.com
All donations are tax deductible.
2010 Receipent - Chloe Grace Inman
2011 Receipent - Alix Troupe